The Encore Singers in The Cary News
---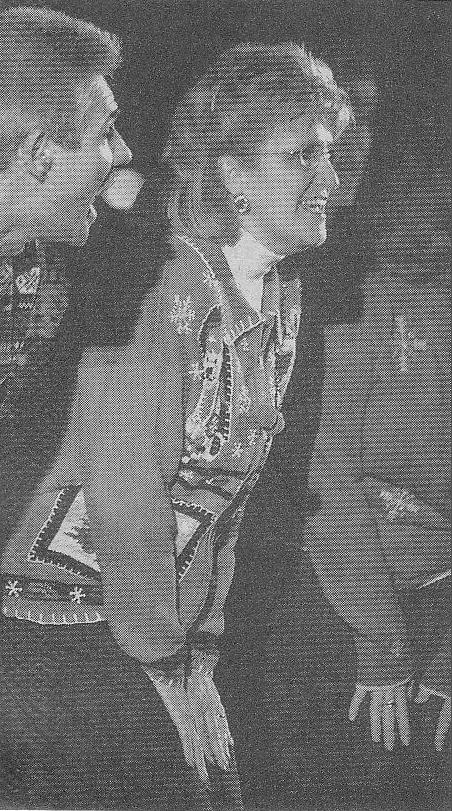 STAFF PHOTO BY BRAD SMITH
Donna Reel sings with the rest of the Encore Singers during the Holiday Tree Lighting at the Cary Town Hall campus Sunday night.
Singers give plenty of Encores
They started out as a corporate chorus. This month, they have plenty of chances to do encores.

The Cary-based Encore Singers has a more-than-full schedule of holiday performances, including the Cary town tree lighting this past Sunday. The group appears tonight, Dec. 6, at the Capitol tree lighting festival in downtown Raleigh (see Arts & More for details on that event) and at the Governor's Mansion on Sunday, Dec. 9,1-3 p.m. Other upcoming performances include one at Cary Towne Center on Wednesday, Dec. 12 at 7 p.m-, and one at Glenaire retirement community off Kildaire Farm Road on Tuesday, Dec. 11 at 7 p.m. There are shows at several Raleigh retirement communities and one at the Raleigh Correctional Center for Women mixed in.

Led by the late Chuck Petersen, the Encore Singers started in 1991 as the Triangle IBM Club Chorale, an employee activity. Eventually, it became unaffiliated with IBM, opened to non-employees and incorporated as a nonprofit organization. The group performs across the area, with some benefit shows.

Currently directed by Terry Denny, who teaches music for Wake County Public Schools, the co-ed group varies in size, with about a dozen members at most times.

"The members of the Encore Singers have worked very hard this year to put together a performance that we can share with the community," Tom Link, group president, said in a press release.

Encore Singers typically puts together a spring and a holiday show, trying all genres and eras with an emphasis on fun. This year's holiday repertoire includes such songs as "Do You Hear What I Hear," "Ho Ho Holidays," "One Magic Christmas," "Silent Night" and "Big Band Santa."

For more information, check the group's Web site at http://encoresingers.20m.com.
---

SEEING & DOING
LISA COSTON